Call for support for the film project
SOLD CITY
WHEN HOUSING BECOMES A COMMODITY
The new "FILM FROM BELOW" by Leslie Franke and Herdolor Lorenz.
 Help make a film that shows how we take the floor out of speculation in housing
Since the non-profit status of housing has been abolished in Europe, housing is no longer considered a human right. Now the market decides where people live. How will the housing issue be decided in the 21st century? Using Berlin, Paris, Hamburg, Munich, London and Vienna as examples, "SOLD CITY" shows how those affected experience the real estate boom and what options there are to resist it.
For more than a decade, we have been experiencing a unique real estate boom in the world's metropolises. This has a mirror-image flip side: sharply rising rents. Income growth is no longer keeping pace. Low- and normal-income citizens are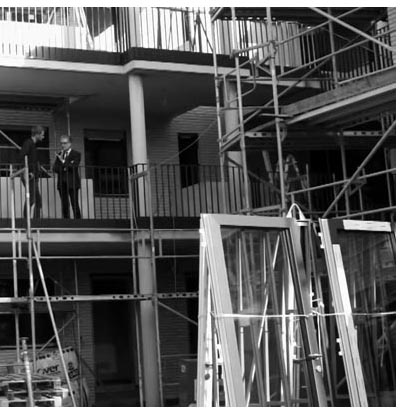 threatened with displacement from sought-after inner-city locations. A turning point was reached when politicians in Europe decided to end the so-called " non-profit housing system".
It is no longer the social purpose of housing that is the most important aspect of housing policy, but the return on investment that housing generates. Yield is the profession of the rapidly expanding real estate groups. The real estate companies Vonovia and Deutsche Wohnen, but also LEG, ADO Properties, Covivio, Akelius, TAG Immobilien Grand City Properties, CDC Habitat and others dominate the housing market increasingly all over Europe. They make record profits that industries can't even dream of. The owners are anonymous pension funds and other investment funds from all over the world which - in search of profitable investment opportunities - discovered "concrete gold" for themselves after the 2008 financial crisis. The expectation of a return on investment is changing the urban landscape. It is not only in Paris and London that the city centers are visibly degenerating into a kind of museum for tourists and rich apartment owners. Neighborhoods that have evolved over time are being transformed into up-market very hip districts with the same expensive art and pub culture everywhere. Where working people stream in from the suburbs in the morning and disappear again at night because they can no longer afford the rents there.
"SOLD CITY" not only makes the dangers for urban culture visible. A new social question and an immense danger for democracy can be seen.
The film will explore the question of how people experience the real estate boom, where the rent increases come from and what possibilities there are to resist them. And last but not least, it will also be asked whether it is justified that land, which is finite, with its immense increases in value has been commoditized.
A film from below
"SOLD CITY" is created as a "film from below" - financed by those who want to see it, who want to show it, who need this tool as an educational tool. What can be achieved for understanding and mobilisation in this way is shown by the filmmakers' last projects "Water Makes Money", "Who is Saving Whom?", "Marketable Patient" and "Marketable People". Therefore, we call upon you: Help make this much-needed film happen.
 Invest in the film "SOLD CITY"! Help to ensure that housing is not a question of money for you.
With a donation you can be a promoter of the film. From us, the filmmakers you will not receive anything in return for your money, however from 20 € onwards the association "Common property in citizen's hand" has kindly agreed to send you a copy of the film as a DVD with a license for non-commercial screening.
From 100 € onwards  If  you so wish your name will be listed in the final credits.
From 1000 € onwards you will be invited to  the premiere of the picture as a guest of honor.
The financial contributions are considered as a donation and are therefore not tax exempted. You will not receive a  donation receipt. In the case of donations above 1000 € it is possible to declare the payment as a  loan, which would be repayable from the revenue over and above the calculated cost of the film.
Payments please to the account: Recipient: SOLD CITY GLS Bank, IBAN: DE49430609672020346200, BIC: GENODEM1GLS or via PayPal. 
160.000 EURO >>>Your contribution
is film funding from the bottom up to build the foundation of film
This is how you can reach us:
Premiere campaign team "SOLD-CITY – When housing becomes a commodity".
E-mail: This email address is being protected from spambots. You need JavaScript enabled to view it. 
 Your contribution
 You wish to support the documentary Sold City .
 You have two possibilities of contributing to the the film project.
via a remittance:
 You transfer the desired amount  to the account given below. Please see that the name is clearly legible. Further please send an e-mail with your name and your postal address to This email address is being protected from spambots. You need JavaScript enabled to view it.  so that  we can send you a thank you note and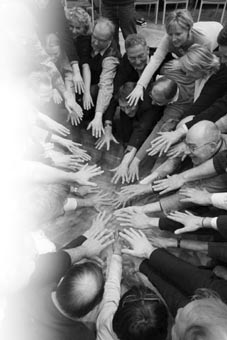 a copy of the DVD upon completion of the project.
 Account holder (Receiver): Film from below
 GLS Bank
 IBAN: DE49430609672020346200, BIC: GENODEM1GLS
 Purpose: Contribution to SOLD CITY
via PayPal:
 You can also send your contribution through PayPal. Please just enter the support amount in the form LEFT ABOVE and then click the  DONATE button. You will then be connected directly to the PayPal page. There you can make your contribution to the project via your credit card, bank debit or via your Paypal funds. Paypal works with  secure Data transfer technology
 Your contribution is not tax deductible, but allows us to implement  the film SOLD CITY. To allow us to remain independent we have not requested recognition as a charity.
 Data security:
The personal data you give us will be used only in connection with the film project. We will of course not pass on your address data  and e-mail addresses nor use them in any other manner.
Subcategories